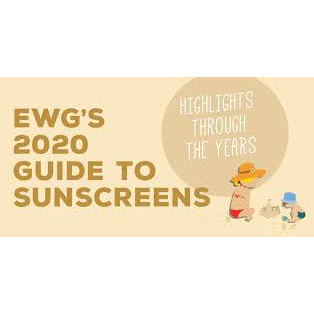 So, how do the sunscreens you sell to your customers rank on Saftey and Efficacy?  Do they actually work and are they safe.  The controversy rages on whether sports sunscreen is safe.  The FDA says they should be reapplied every 15 minutes in high-stress conditions.  Our Solar Rx Moisturizer with sunscreen has the highest and best rating.  It can be worn all day as a foundation.  How do the ones you sell rate against Keys Solar Rx?   The results may surprise you.  Every year the Environmental Working Group publishes a sunscreen report.  Keys has been at the top of the list since the first report ten years ago.  This year the report is better to read in every aspect.  It is easy to read and figure out which is best for your customers.  They already read the report, it is time you compare what they know to what you sell.
First, there are fundamentally two types of sunscreens.  There are "go-to beach" sports screens and daily moisturizers with SPF.  Keys Solar RX is a daily sunscreen foundation with anti-aging moisturizing properties.  Having both types on your shelves is important and knowing when to recommend one of the other is essential.
Keys has received the highest ranking in the 2020 EWG sunscreen report for safety and efficacy. Keys Solar Rx and Keys KPRO SPF each received a 1 rating in this year's EWG sunscreen report. The scale of 1 to 10 ranks safety based on ingredients and efficacy based on the type and concentration of sunscreen ingredients; 1 being the highest rating and 10 the worst.  As you can see from the chart to the right, there are very few #1 ranked sunscreens with the majority rated 3-6 on the EWG scale.
Keys uses a 20.5% level of its proprietary uncoated zinc oxide blend. The base moisturizer is our Luminos lotion formulation that focuses on avocado oil, black seed oil, carrot seed oil, agave aloe, and Shea butter for maximum hydration.
Spherical Zinc Oxide particles
Keys SPF products use a technique from high technology sputtering to process the particles for maximum UV blocking efficacy. Our zinc oxide blend uses a vapor deposition process to make our particles spherical and, therefore, transparent. The mixture maximizes UVB and UVA properties for perfect UV filtering.
Keys SPF products are the best moisturizers with UV protection. Solar Rx and KPRO SPF are for everyday use in non-sport applications. The products last all day and need not be reapplied, assuming the wearer does not sweat or do physical activity. Keys Solar Rx is perfect under makeup, acting as a clear luminescent foundation. KPRO adds sparkle from our OptiFx particles for special occasions.
How Do The Sunscreens You Are Selling Rate Against Keys
Click Here or the image above to access the Moisturizer with SPF EWG report and scroll down to Keys to read the reviews
Anti-Aging
Both Solar Rx and KPRO SPF have anti-aging emollient properties because of the ingredient purity and quality. These are the most exquisite oils that money can buy blended into a formulation that hydrates, moisturizes, and effects fine lines. Avocado oil has skin clearing properties and, over time, will reduce dark spots and patches.
Therapeutic
Keys Solar Rx broadens its purpose as a skin ailment and disorder product because the zinc oxide is uncoated. This means that the wearer gains all the benefits of a zinc cream at even higher concentrations than over the counter skin disorder products. Most zinc creams contain 6%-8% uncoated zinc oxide. Solar Rx is at 20.5% uncoated zinc level. One major benefit is as a redness reduction solution. Many dermatologists prescribe zinc oxide cream and ointments. Solar Rx is a universal solution while also providing UVA and UVB blocking.
10 Years
This is the tenth year that Keys Solar Rx has received the highest rating from the EWG. Consumer Union thrust Keys Solar Rx into the limelight when it rated Solar Rx the highest and most effective sunscreen in its class. It has been the choice of Hollywood makeup artists and actors. It was featured two years in a row at Maria Shriver's California Women's Conference. Originally developed for Wendy Steele, Keys CEO, melanoma diagnosis, Solar Rx is Keys number one selling product.