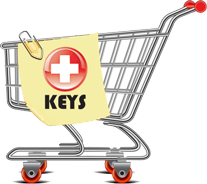 Our new wholesale website is chocked full of simple innovations making your buying experience quick, easy, and 24/7.
RegistrationCurrent Dealer/Reseller Registration/Log In
If you buy from Keys already using Text, Email, Vmail or through your Rep, you can add online ordering easily by going to the box to the left and click "Lost Password," or click on the Sign-Up tab in the menu above. Scroll down to the "Reset Password" box and enter your email address. You will be redirected to a page where you can reset your password from the one we made up for you. Once you have put your email address in, click the reset password button. The go back to the login using your email address used for the password reset as your username and enter the password you just created. You are in! Buy away.
New Dealer/Reseller Sign-Up
I the top menu, there is a tab titled "Sign-Up." Click and scroll down to the application form. It is simple, easy, and quick. Once approved, you will be able to log in and see wholesale pricing and enter orders yourself.
Reset Password?